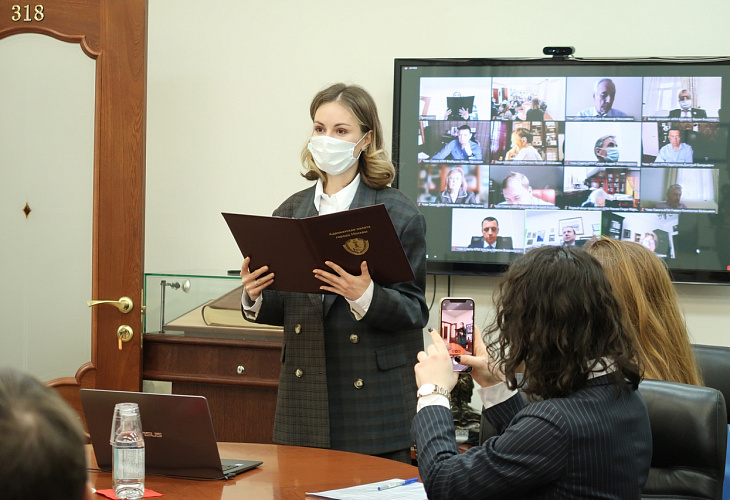 27 January 2022
At the beginning of the meeting 9 applicants for the status of a lawyer who successfully passed the qualification exam took the oath in a solemn atmosphere: Anastasia Andretsova, Dmitry Gloov, Alexandra Gromova, Ekaterina Kiseleva, Daria Kovalenko, Oleg Satarov, Alexander Spiridonov, Olga Sukhanova, Anton Shagalov.
The Council has considered twenty disciplinary proceedings against twenty lawyers. Fourteen disciplinary proceedings were initiated on the basis of complaints from principals, five - on appeals from judges, and one was based on a recommendation from the Main Department of the Ministry of Justice of the Russian Federation in Moscow.
Members of the Council have exchanged information on their activities since the previous meeting of the Council. The Council has considered issues of admitting new lawyers as members of the Moscow Bar Association and expelling others from the Chamber, termination, suspension and renewal of the lawyers' statuses and amendments to the register of Moscow law offices.
The Council has decided to put 34 lawyers and one law office forward for awards.
Furthermore, the Council has approved the Position of the Moscow Bar Association towards the amendments to the Federal Law
"On the practice of law and the legal profession in the Russian Federation"
proposed by the Ministry of Justice of the Russian Federation. The document is also published on our website.
The following members of the Council took part in the meeting: Igor Polyakov (President), Genri Reznik (First Vice President), Sergey Zubkov, Nikolay Kipnis and Vadim Klyuvgant (Vice Presidents), Alla Zhivina, Konstantin Rivkin, Evgeniy Rubinshtein, Vladimir Ryabtsev, Andrey Suchkov, Yuliy Tay, Marina Titievskaya, Maxim Ustinyuk, Igor Fleishman and Dmitry Kharitonov.
Share
Meeting of the Council of the Moscow Bar Association
Код PHP
" data-url="http://en.advokatymoscow.ru/about/news/10523/" data-image="http://en.advokatymoscow.ru/upload/iblock/461/90667d6eptl9drdyo4q7bgth441x5yw0/fZbVokS5Vk8.jpg" data-description="At the beginning of the meeting 9 applicants for the status of a lawyer who successfully passed the qualification exam took the oath in a solemn atmosphere: Anastasia Andretsova, Dmitry Gloov, Alexandra Gromova, Ekaterina Kiseleva, Daria Kovalenko, Oleg Satarov, Alexander Spirido..." >
Comments